Maciek zostanie uprowadzony
Poniedziałek, 2 kwietnia 2012 (10:00)
Darek (Bartosz Obuchowicz) zrobi wszystko, byle tylko nie dopuścić do ślubu Julii (Julia Rosnowska) z Maćkiem (Michał Lewandowski). W tym celu posunie się nawet do porwania Janickiego!
Zdjęcie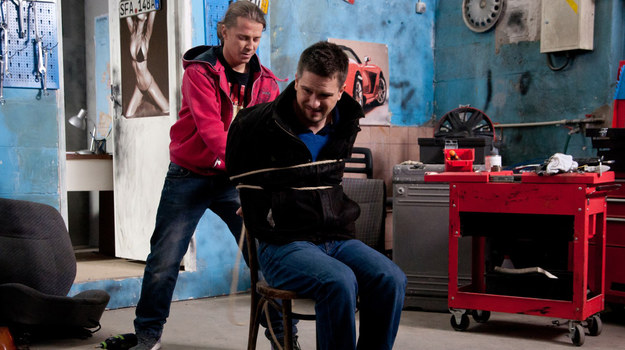 Ujawniamy, że Maciek zostanie porwany w 66.odcinku "Julii" (emisja w poniedziałek 2 kwietnia). Gdy będzie czekał na taksówkę przed swoim mieszkaniem, nagle ktoś do niego podbiegnie, zarzuci mu worek na głowę i wciągnie do auta. Co ciekawe, chwilę później dokładnie to samo spotka jego partnera Kamila (Marcin Stec)!
Bardzo szybko wyjdzie na jaw, że wynajęci przez Janka (Krystian Wieczorek) i Igora (Marcin Sianko) "porywacze" - zamiast Maćka - dostarczyli na wieczór kawalerski Kamila!
Maciek zaś zostanie związany i będzie przetrzymywany w warsztacie, w którym pracuje Darek. Na początku pomyśli, że to żart. Lecz szybko zorientuje się w sytuacji i dojdzie do wniosku, że uprowadzono go, by nie doszło do jego ślubu z Julią!
Tymczasem Janek i Kamil rozpoczną intensywne poszukiwania Maćka. Pojawią się podejrzenia, że Janicki zniknął nie bez powodu - ma wątpliwości przed ślubem...
Czy Maćkowi uda się wydostać z opresji i jego ślub z Julią dojdzie do skutku?
Artykuł pochodzi z kategorii:
Julia
Agencja W. Impact
polski i
Tele Tydzień
Ogólnotematyczne
Filmowe
Serialowe
Dla dzieci
Sportowe
Muzyczne
Tematyczne
Dokumentalne
Informacyjne
Regionalne
DVB-T
HD
polski i
Tele Tydzień
Ogólnotematyczne
Filmowe
Serialowe
Dla dzieci
Sportowe
Muzyczne
Tematyczne
Dokumentalne
Informacyjne
Regionalne
HD