Na policyjny nos
Poniedziałek, 30 stycznia 2012 (10:55)
Autentyczni funkcjonariusze na planie, strzelanina i niezwykły owczarek, który potrafi rozwiązać każdą zagadkę. – Mamy też policyjnego konsultanta. Dzięki niemu nasze historie są bliskie prawdy – mówią twórcy serialu "Komisarz Aleks", który pojawi się na wiosnę.
Zdjęcie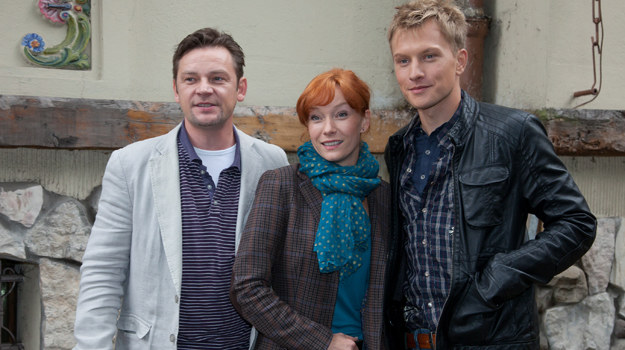 Ireneusz Czop, Magdalena Walach, Kuba Wesołowski
Od samego rana na ulicę Ogrodową w Łodzi ściągały tłumy gapiów. Widok zakrwawionego człowieka budził domysły. To ofiara przestępstwa czy wypadku? – Słyszałem, jak jedna z kobiet opowiadała drugiej, że to gangsterskie porachunki. Trochę się pomyliła, bo wprawdzie doszło do tragicznego w skutkach zamachu, ale zobaczymy go tylko w pierwszym odcinku "Komisarza Aleksa", który właśnie kręcimy – mówi reżyser Robert Wichrowski przed jednym ze stylowych hoteli.
"- W naszym serialu pojawią się antyterroryści"
To w nim bandyta Szumski (Waldemar Błaszczyk) zdetonuje ładunek, zabijając swojego ukraińskiego konkurenta, niejakiego Jegorowa (Włodzimierz Adamski).
Później w trakcie ucieczki przed stróżami prawa zastrzeli też jednego z nich i rani tytułowego bohatera, czyli dzielnego psiaka. – To wtedy komisarz Marek Bromski po raz pierwszy zobaczy Aleksa, któremu uratuje życie. W ten sposób zacznie się moja dozgonna przyjaźń i niecodzienna współpraca z czworonogiem – zdradza Kuba Wesołowski. – Nasz serial wyróżnia to, że pojawiają się prawdziwi antyterroryści – dodaje Małgorzata Stafin z produkcji "Komisarza Aleksa", w którym oprócz Kuby Wesołowskiego w rolach głównych zobaczymy Magdalenę Walach, Daniela Olbrychskiego, Ireneusza Czopa i Janusza Chabiora.
Artur Krasicki
Artykuł pochodzi z kategorii:
Komisarz Alex

polski i
Tele Tydzień
Ogólnotematyczne
Filmowe
Serialowe
Dla dzieci
Sportowe
Muzyczne
Tematyczne
Dokumentalne
Informacyjne
Regionalne
DVB-T
HD
polski i
Tele Tydzień
Ogólnotematyczne
Filmowe
Serialowe
Dla dzieci
Sportowe
Muzyczne
Tematyczne
Dokumentalne
Informacyjne
Regionalne
HD