Seriale

»

Nowy lokal Pawła i Zawadzkiego
Nowy lokal Pawła i Zawadzkiego
Sobota, 15 września 2012 (06:00)
Po kilku pechowych tygodniach, szef ma dla Pawła (Rafał Mroczek) dobrą wiadomość. Robi przyjacielowi niespodziankę i dzięki pomocy Madzi (Anna Mucha) - sprowadza chłopaka do lokalu, który planuje wynająć...
Zdjęcie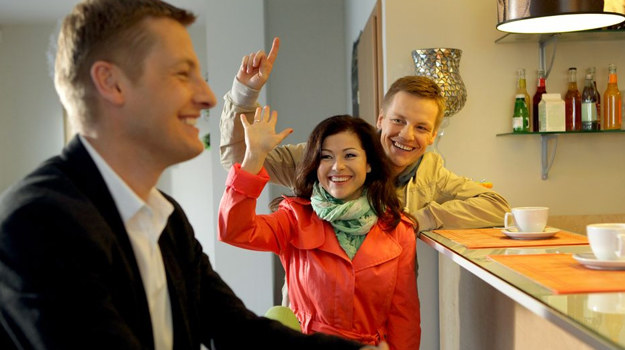 Paweł (Rafał Mroczek), Kinga (Katarzyna Cichopek), Piotrek (Marcin Mroczek)
- Jeśli to zaklepiesz, jutro podpisujemy umowę! Wszystko już przygotowane. Janek (Jacek Lenartowicz) zerka niepewnie na Zduńskiego... A Sylwia (Anna Gzyra) od razu ukochanego popiera: - Potrzebny będzie niewielki remont, ale generalnie chyba czegoś takiego szukaliśmy, prawda?

Co na to Paweł? Oszołomiony, rozgląda się po lokalu - i uśmiecha od ucha do ucha. - Jestem w takim szoku... że mi odjęło mowę!

To scena, którą zobaczymy już 17 września, w poniedziałek, w 928. odcinku "M jak miłość" na antenie TVP 2.

Artykuł pochodzi z kategorii:
M jak miłość
materiały prasowe
polski i
Tele Tydzień
Ogólnotematyczne
Filmowe
Serialowe
Dla dzieci
Sportowe
Muzyczne
Tematyczne
Dokumentalne
Informacyjne
Regionalne
DVB-T
HD
polski i
Tele Tydzień
Ogólnotematyczne
Filmowe
Serialowe
Dla dzieci
Sportowe
Muzyczne
Tematyczne
Dokumentalne
Informacyjne
Regionalne
HD