Seriale

»

Wyrzuci Małgosię za drzwi
Wyrzuci Małgosię za drzwi
Poniedziałek, 19 marca 2012 (10:30)
Zapraszamy na 901. odcinek "M jak Miłość", w którym Martę spotka kolejny cios… Tym razem, ze strony Małgosi!
Zdjęcie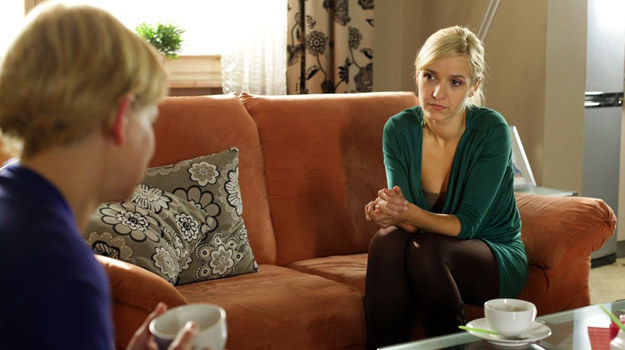 Trudna rozmowa sióstr
- Miał romans z Agnieszką... Ba, co tam romans! Mieli dziecko - załamana Wojciechowska (Dominika Ostałowska) opowie siostrze o swoich problemach. A Małgosia (Joanna Koroniewska), zmieszana, szybko odwróci wzrok.
- Tak mi przykro...
- Widzę, że ta wiadomość nie zrobiła na tobie wrażenia.
Marta, zaskoczona, spojrzy dziewczynie prosto w oczy... I w końcu zrozumie, że siostra ją okłamała.
- Poczekaj... Ty o tym wiedziałaś?!
Chodakowska spróbuje się bronić:
- Zrozum, chciałam dobrze... Chciałam cię chronić! Myślałam, że to uratuje twoje małżeństwo!
Jednak Marta rzuci jej lodowate spojrzenie...
- Nie miałaś prawa tego zrobić. Wiesz, co to jest? Skrajna nielojalność! I to najbardziej oględne określenie, jakie przychodzi mi do głowy... Rozumiesz?!
- Jak możesz tak mówić? Zrobiłam to dla ciebie!
- Wyjdź! Nie chcę cię znać!  

Nie tak dawno, o wybaczenie prosiła Marta - po swoim pocałunku z Tomkiem. Siostry długo nie mogły się pogodzić i cierpiała przez to cała rodzina. Czy teraz sytuacja się powtórzy? A Marta uzna działanie Małgosi za perfidną, miłosną zemstę? Odpowiedź już 20 marca tylko na antenie TVP 2!  


Artykuł pochodzi z kategorii:
M jak miłość
materiały prasowe
polski i
Tele Tydzień
Ogólnotematyczne
Filmowe
Serialowe
Dla dzieci
Sportowe
Muzyczne
Tematyczne
Dokumentalne
Informacyjne
Regionalne
DVB-T
HD
polski i
Tele Tydzień
Ogólnotematyczne
Filmowe
Serialowe
Dla dzieci
Sportowe
Muzyczne
Tematyczne
Dokumentalne
Informacyjne
Regionalne
HD