Bolesne wyznanie Niny
Czwartek, 12 kwietnia 2012 (11:55)
Z każdym dniem, Nina (Agnieszka Judycka) jest coraz silniej związana z Michałem (Radosław Krzyżowski) i małym Krzysiem. Spędza u Sambora niemal każdą wolną chwilę. I nie chce dłużej ukochanego oszukiwać… W końcu, decyduje się wyznać prawdę o swoim romansie z Falkowiczem (Michał Żebrowski). Zobaczcie, co wydarzy się w 481. odcinku "Na dobre i na złe".
Zdjęcie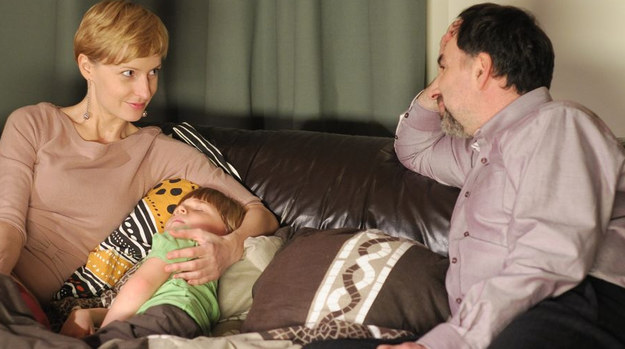 Po kolacji, gdy Krzyś zasypia w swoim pokoju, Rudnicka zerka nieśmiało na Sambora. - Muszę ci o czymś powiedzieć... Nie chcę już dłużej tego ukrywać.
- O co chodzi? - Bardzo mi na tobie zależy, dlatego... Nina, zdesperowana, próbuje znaleźć właściwe słowa... A w głosie Michała od razu słychać niepokój. - Dlatego... co? - Ja i Falkowicz... W trakcie moich studiów... Byliśmy razem. Kochałam go, chciałam z nim być... Ale mnie skrzywdził. To już przeszłość. Mam to dawno za sobą... Dziewczyna, zawstydzona, odwraca wzrok. A Sambor nagle blednie - i rzuca ukochanej badawcze spojrzenie: - Dlaczego mówisz mi to dopiero teraz? To było aż tak ważne, że tak długo to ukrywałaś? Czy dawny romans wpłynie na związek Niny i Sambora - i zniszczy ich szczęście?

Emisja 481. odcinka "Na dobre i na złe" w piątek 13 kwietnia o godz. 20:05 na antenie TVP2.

Zwiastun 481. odcinka "Na dobre i na złe" /materiały prasowe
Artykuł pochodzi z kategorii:
Na dobre i na złe
materiały prasowe
polski i
Tele Tydzień
Ogólnotematyczne
Filmowe
Serialowe
Dla dzieci
Sportowe
Muzyczne
Tematyczne
Dokumentalne
Informacyjne
Regionalne
DVB-T
HD
polski i
Tele Tydzień
Ogólnotematyczne
Filmowe
Serialowe
Dla dzieci
Sportowe
Muzyczne
Tematyczne
Dokumentalne
Informacyjne
Regionalne
HD