Seriale

»

Sambor i Falkowicz - runda pierwsza
Sambor i Falkowicz - runda pierwsza
Piątek, 23 marca 2012 (13:36)
Niewyspana, zmęczona… Wiktoria (Katarzyna Dąbrowska) jest u kresu sił. A Sambor (Radosław Krzyżowski), kolejny raz, próbuje koleżance pomóc. Wstawia się za dziewczyną u Falkowicza (Michał Żebrowski) - i prosi, by ordynator inaczej przydzielał dyżury. Z jaki efektem? Oto zapowiedź 478. odcinka "Na dobre i na złe".
Zdjęcie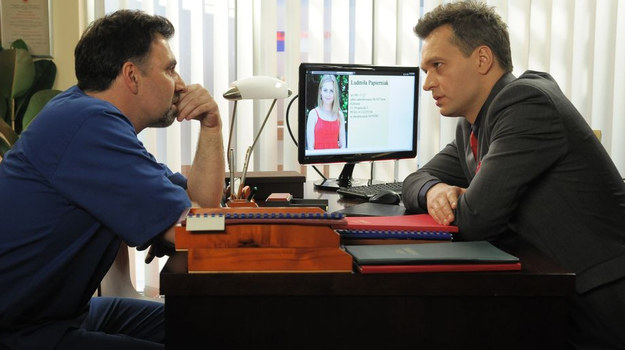 - Pan doktor jest opiekunem stażu i rezydentury doktor Consalidy, ja jestem ordynatorem chirurgii... Proponuję kompromis - Falkowicz rzuca Michałowi lodowate spojrzenie. - Ja nie będę kwestionował sposobu, w jaki pan doktor sprawuje tę opiekę, a pan nie będzie ingerował w moją politykę personalną... Zgoda?
A Sambor traci w końcu cierpliwość - i wybucha.
- Rozumiem, że nie przestanie pan jej szykanować?!
- Chyba nie nazywa pan szykanowaniem wymogu rzetelnego świadczenia pracy...
- Nie wiem, dlaczego pan to robi, ale na pewno nie pozwolę panu zgnoić tej dziewczyny! 
- Jak już tak miło sobie gawędzimy... To mam jeszcze do pana doktora osobistą prośbę. Proszę przekazać serdeczne pozdrowienia Ninie... To znaczy doktor Rudnickiej, oczywiście. Najserdeczniejsze...
Falkowicz posyła rywalowi kpiący uśmiech... A Sambor zaciska pięści i gwałtownie podchodzi do biurka:
- Masz szczęście, facet! Jeszcze parę lat temu... 
A co jeszcze wydarzy się 478. odcinku "Na dobre i na złe"?  Odpowiedź 23 marca o godz. 20:05 na antenie TVP2.

Artykuł pochodzi z kategorii:
Na dobre i na złe
materiały prasowe
polski i
Tele Tydzień
Ogólnotematyczne
Filmowe
Serialowe
Dla dzieci
Sportowe
Muzyczne
Tematyczne
Dokumentalne
Informacyjne
Regionalne
DVB-T
HD
polski i
Tele Tydzień
Ogólnotematyczne
Filmowe
Serialowe
Dla dzieci
Sportowe
Muzyczne
Tematyczne
Dokumentalne
Informacyjne
Regionalne
HD