Seriale

»

Poznajcie prawdziwą historię Weroniki!
Poznajcie prawdziwą historię Weroniki!
Środa, 16 maja 2012 (09:25)
Bożena Wielgosz (Bogumiła Pawelec) okaże się biologiczną matką Weroniki (Renata Dancewicz). Sprawdź szczegóły!
Zdjęcie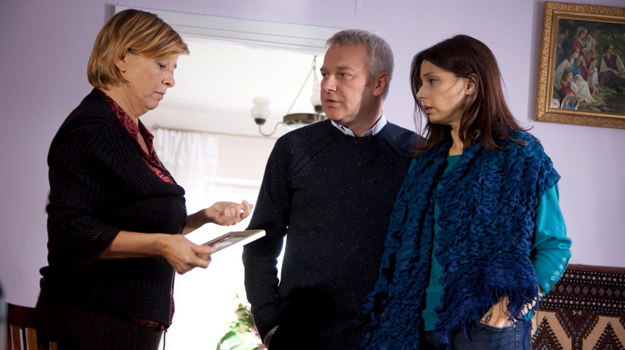 Bożena będzie chciała udowodnić Weronice, że jest jej biologiczną matką
Zdradzamy, że w 1609. odcinku "Na Wspólnej" (emisja w środę 16 maja) Weronika po raz kolejny skontaktuje się z kobietą, która twierdzi, że jest jej matką. Zadzwoni do Wielgoszowej, by powiedzieć, że przez pomyłkę zabrała od niej zdjęcie i chciałaby je zwrócić. Bożena będzie zawiedziona, że córka dzwoni tylko po to. Zapewni, że może udowodnić Weronice, że jest jej matką. Zaproponuje, że do niej przyjedzie. I, rzeczywiście, zjawi się na Wspólnej.  
Wręczy Weronice listy od państwa Wilków, którzy ją adoptowali.
- To ja dałam ci na imię Weronika - po swojej mamie - oznajmi Bożena.
- Wilkowie często pisali do mnie listy, aż nagle zamilkli. O wypadku, w którym zginęli, dowiedziałam się dopiero rok później. Próbowałam cię szukać, lecz w tamtych czasach było to bardzo trudne.
- Czemu oddała pani swoje dziecko obcym ludziom? - zapyta Weronika.
- Gdy zaszłam w ciążę, miałam 17 lat - wyjaśni Bożena.
- Bardzo chciałam zatrzymać dziecko, ale mój ojciec nie mógł pogodzić się z tym, że będzie miał bękarta w rodzinie. Wiem, że nie cofnę już czasu i niczego nie naprawię, ale marzę o tym, abyś mi kiedyś przebaczyła.
Czy Weronika wybaczy matce, że oddała ją do adopcji?


Artykuł pochodzi z kategorii:
Na Wspólnej
Agencja W. Impact
polski i
Tele Tydzień
Ogólnotematyczne
Filmowe
Serialowe
Dla dzieci
Sportowe
Muzyczne
Tematyczne
Dokumentalne
Informacyjne
Regionalne
DVB-T
HD
polski i
Tele Tydzień
Ogólnotematyczne
Filmowe
Serialowe
Dla dzieci
Sportowe
Muzyczne
Tematyczne
Dokumentalne
Informacyjne
Regionalne
HD