Seriale

»

Specjalistka od zadań specjalnych w "Na Wspólnej"
Specjalistka od zadań specjalnych w "Na Wspólnej"
Wtorek, 13 grudnia 2011 (11:09)
W gazecie szykują się poważne zmiany! Zarząd przysłał na stanowisko zastępcy naczelnego specjalistkę do zadań specjalnych - Ninę Lassotę (Dominika Figurska), która ma zmienić wizerunek "Kraju". Jak planuje to zrobić?
Zdjęcie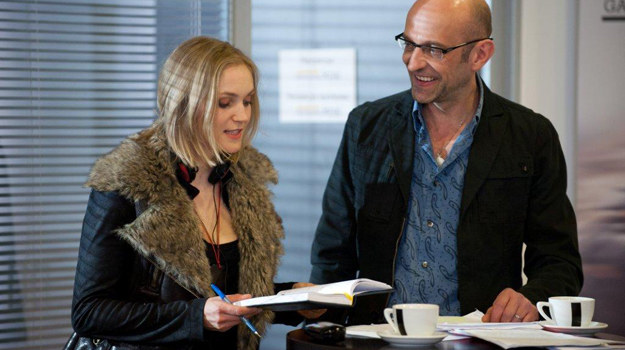 Nina (Dominika Figurska) i Naczelny (Janusz Chabior)
Igor (Kuba Wesołowski) już od dawna nosi się z pomysłem zaproszenia Sary (Maria Semotiuk) na kolację do swoich przyjaciół. Kiedy w końcu nadarza się na to odpowiedni moment w redakcji wybucha prawdziwa bomba! Kolega z działu przynosi wiadomość, że do gazety sprowadzono specjalistę ds. kryzysowych, który ma zmienić jej wizerunek! Dziennikarze są przekonani, że nie wróży to nic dobrego...
Niedługo po tym Igor, zauważa na korytarzu młodą kobietę, której pomaga uruchomić ekspres do kawy. Kobieta z czarującym uśmiechem dziękuje i odchodzi do gabinetu naczelnego. Jej klasa i uroda robią na Igorze ogromne wrażenie. Podczas zebrania zespołu redakcyjnego, Naczelny (Janusz Chabior) oznajmia, że konieczne jest odnowienie wizerunku pisma, a tym samym uporanie się z problemami finansowymi redakcji. Chwilę później przedstawia swojego zastępcę - Ninę Lassotę (Dominika Figurska). Ku wielkiemu zaskoczeniu Igora jest to ta sama kobieta, którą spotkał na korytarzu. Nina oznajmia, że traktuje tę pracę jak wyzwanie i tego samego oczekuje od całego zespołu. Poleca dziennikarzom przygotować na jutro propozycje zmian i ulepszeń. Liczy na odważne i nowatorskie pomysły. Nie zamierza tolerować przeciętności! Na dziennikarzy "Kraju" pada blady strach! Co to dla nich oznacza? Przekonajcie się sami, oglądając najbliższe odcinki "Na Wspólnej"!
Artykuł pochodzi z kategorii:
Na Wspólnej
materiały prasowe
polski i
Tele Tydzień
Ogólnotematyczne
Filmowe
Serialowe
Dla dzieci
Sportowe
Muzyczne
Tematyczne
Dokumentalne
Informacyjne
Regionalne
DVB-T
HD
polski i
Tele Tydzień
Ogólnotematyczne
Filmowe
Serialowe
Dla dzieci
Sportowe
Muzyczne
Tematyczne
Dokumentalne
Informacyjne
Regionalne
HD