Seriale

»

5. sezon "Czystej krwi" już we wrześniu
5. sezon "Czystej krwi" już we wrześniu
Poniedziałek, 13 sierpnia 2012 (16:01)
Przed nami kolejna porcja "Czystej krwi". W kolejnej odsłonie produkcji Alana Balla, pojawia się jeszcze więcej niezwykłych bohaterów, a ich losy zmieniają się jak w kalejdoskopie.
Zdjęcie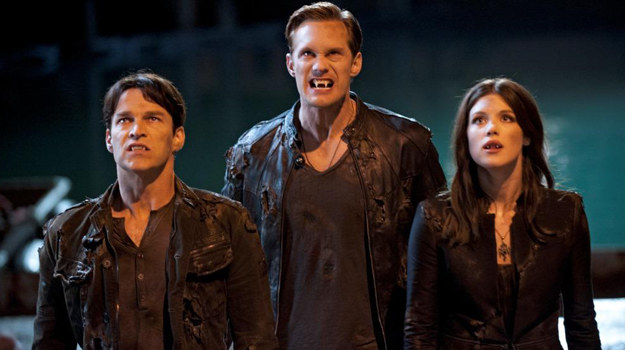 "Czysta krew"
Miłość, mroczne zagadki, tajemnice oraz humor! To wszystko znaleźć można w świecie zamieszkiwanym przez ludzi i wampiry, które po uruchomieniu masowej produkcji syntetycznej krwi opuściły trumny i nie muszą już polować na ludzi.
W spokojnym miasteczku Bon Temps, Sookie Stackhouse (wyróżniona za tę rolę Złotym Globem Anna Paquin), rezolutna kelnerka słysząca myśli innych, ma już dość problemów, jakie spowodowało w jej życiu pojawienie się wampirów, wilkołaków i innych niecodziennych istot. Oświadcza Ericowi (Alexander Skarsgard) i Billowi (Stephen Moyer), że ci nie mają już wstępu do jej domu i serca. Czy oznacza to powrót do zwykłego życia?
"Czysta krew" to produkcja na motywach bestsellerowej powieści Charlaine Harris "The Southern Vampire Mysteries". Pomysłodawcą i producentem wykonawczym serialu jest Alan Ball, twórca nagrodzonego Emmy serialu HBO "Sześć stóp pod ziemią".
W produkcji występują również: Ryan Kwanten, Rutina Wesley, Sam Trammell, Nelsan Ellis, Chris Bauer, Carrie Preston, Todd Lowe, Jim Parrack, Deborah Ann Woll, Kristin Bauer van Straten, Joe Manganiello, Lauren Bowles, Denis O'Hare, Michael McMillian i Janina Gavankar. Po raz pierwszy w obsadzie serialu pojawiają się: Scott Foley, Terry Bellefleur, Christopher Meloni, Valentina Cervi oraz Lucy Griffiths.
5. transzę "Czystej krwi " będzie można oglądać w HBO od 29 września, w soboty o godz. 22:00. Serial składa się z dwunastu odcinków. Kolejne odcinki są również dostępne w HBO GO w dzień po premierze amerykańskiej.
Artykuł pochodzi z kategorii:
Seriale
polski i
Tele Tydzień
Ogólnotematyczne
Filmowe
Serialowe
Dla dzieci
Sportowe
Muzyczne
Tematyczne
Dokumentalne
Informacyjne
Regionalne
DVB-T
HD
polski i
Tele Tydzień
Ogólnotematyczne
Filmowe
Serialowe
Dla dzieci
Sportowe
Muzyczne
Tematyczne
Dokumentalne
Informacyjne
Regionalne
HD