Seriale

»

9. sezon "Dwóch i pół" z Ashtonem Kutcherem
9. sezon "Dwóch i pół" z Ashtonem Kutcherem
Sobota, 1 grudnia 2012 (07:00)
Szalone perypetie dobrze znanych i lubianych kawalerów wracają na antenę TVN 7 z dziewiątym sezonem serialu "Dwóch i pół"! A jak Aschton Kutcher poradził sobie jako "zmiennik" Charliego Sheena?
Zdjęcie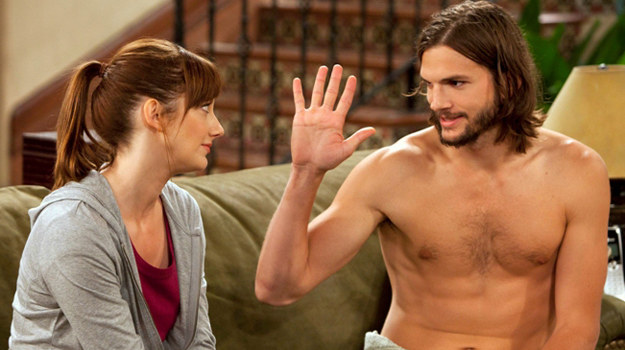 "Dwóch i pół"
Od wielu lat przygody braci Harper gromadzą mnóstwo widzów na całym świecie. Charakterystyczne poczucie humoru, wyraziste postacie oraz świetny scenariusz to znak rozpoznawczy tego sitcomu. Dziewiąty sezon to pierwszy bez udziału Charliego Sheena. Decyzją twórców na jego miejscu zobaczymy Ashtona Kutchera.

W 9. transzy widzowie zobaczą, jak Walden Schmidt (Ashton Kutcher), miliarder z branży internetowej, po nieudanej próbie ratowania swego małżeństwa postanawia popełnić samobójstwo. Mężczyzna rzuca się do oceanu, jednak fale wyrzucają go na brzeg.

Załamany Walden trafia przypadkiem do domu przy plaży w Malibu, w którym przez ostatnie osiem lat mieszka dochodzący do siebie po dwóch rozwodach Alan Harper i jego nastoletni "zdolny, lecz leniwy" syn Jake. Nie mając się gdzie podziać, Walden kupuje dom i proponuje jego mieszkańcom, aby zamieszkali razem z nim, dotrzymując mu towarzystwa.

Pomimo swoich przykrych doświadczeń z kobietami, Alan niespodziewanie wchodzi w rolę mentora oraz damsko-męskiego doradcy Waldena. Starając się przystosować do nowej sytuacji, Walden, Alan i Jake tworzą namiastkę prawdziwej rodziny i mają szansę stać się lepszymi ludźmi. Jak trójka mężczyzn poradzi sobie w nowej dla siebie sytuacji?

Tego dowiemy się, oglądając 9. sezon "Dwóch i pół" na antenie TVN 7. Emisja od 1 grudnia, w każdą sobotę o godzinie 11:00 i 11:30.
Artykuł pochodzi z kategorii:
Seriale
polski i
Tele Tydzień
Ogólnotematyczne
Filmowe
Serialowe
Dla dzieci
Sportowe
Muzyczne
Tematyczne
Dokumentalne
Informacyjne
Regionalne
DVB-T
HD
polski i
Tele Tydzień
Ogólnotematyczne
Filmowe
Serialowe
Dla dzieci
Sportowe
Muzyczne
Tematyczne
Dokumentalne
Informacyjne
Regionalne
HD