Seriale

»

Co wydarzy się w 3. sezonie "Zakazanego imperium"?
Co wydarzy się w 3. sezonie "Zakazanego imperium"?
Środa, 22 sierpnia 2012 (16:03)
Produkcja "Zakazane imperium" to wyprodukowana przez Martina Scorsese i Terrence'a Wintera opowieść o porachunkach gangsterów w czasach prohibicji. Enoch "Nucky" Thompson (Steve Buscemi) jest prominentnym politykiem i biznesmenem, który sprawuje kontrolę nad Atlantic City. To człowiek sukcesu, który nie boi się zdecydowanych ruchów. W 3. sezonie poniesie konsekwencje dramatycznych wyborów dokonanych zarówno w życiu zawodowym, jak i prywatnym...
Zdjęcie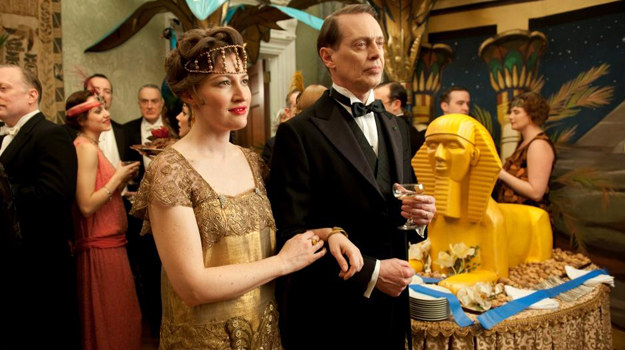 "Zakazane imperium"
Akcja 3. transzy serialu rozpoczyna się w Sylwestra 1922 roku. Szalone lata 20-ste, trwa ożywienie gospodarcze, coraz trudniej jest kupić alkohol, grupom przestępczym wyrasta bardzo poważna konkurencja, w wyniku czego dochodzi do nasilenia przemocy wśród gangsterów. 
Małżeństwo Nucky'ego z Margaret (Kelly MacDonald) rozpada się, gdy żona przekazuje wysoką darowiznę na rzecz kościoła. Dodatkowo na rynku pojawia się nowy gracz, który nawiązuje strategiczny sojusz między grupami z Nowego Jorku i Atlantic City, aby przejąć alkoholowy interes Nucky'ego.
Twórcami "Zakazanego Imperium" są nagrodzony Oscarem Martin Scorsese (Gangi Nowego Jorku, Infiltracja) oraz Terrence Winter (Rodzina Soprano). W głównej roli Enocha Nucky'ego Thompsona występuje Steve Buscemi (Ghost Word, Kawa i papierosy, Rodzina Soprano).

Obok niego pojawiają się ponownie m.in. nominowana za swoją rolę do Złotego Globu Kelly MacDonald, Shea Whigham, Paz de la Huerta, Gretchen Mol, Michael Shannon, Stephen Graham, Michael Kenneth Williams oraz Jack Huston.
Produkcja zdobyła osiem nagród Emmy, m.in. statuetkę za najlepszą reżyserię serialu obyczajowego dla Martina Scorsese oraz dwa Złote Globy - nagrodę za swoją kreację otrzymał Steve Buscemi. W tym roku "Zakazane imperium" otrzymało dwanaście nominacji do nagród Emmy.
Polska premiera 3. sezonu serialu odbędzie się dzień po amerykańskiej premierze, 17 września równocześnie w HBO, HBO OD i HBO GO. Serial nagrodzony został ośmioma nagrodami Emmy oraz dwoma Złotymi Globami.
Artykuł pochodzi z kategorii:
Seriale
polski i
Tele Tydzień
Ogólnotematyczne
Filmowe
Serialowe
Dla dzieci
Sportowe
Muzyczne
Tematyczne
Dokumentalne
Informacyjne
Regionalne
DVB-T
HD
polski i
Tele Tydzień
Ogólnotematyczne
Filmowe
Serialowe
Dla dzieci
Sportowe
Muzyczne
Tematyczne
Dokumentalne
Informacyjne
Regionalne
HD