Seriale

»

"Dziewczyny" czy dziewczynki?
"Dziewczyny" czy dziewczynki?
Czwartek, 26 lipca 2012 (13:17)
Bohaterki nowego serialu często zachowują się jak nastolatki. Czasem chcą uciec od codziennych kłopotów do czasów dzieciństwa. A seks wydaje im się kłopotliwy, raczej przereklamowany.
Zdjęcie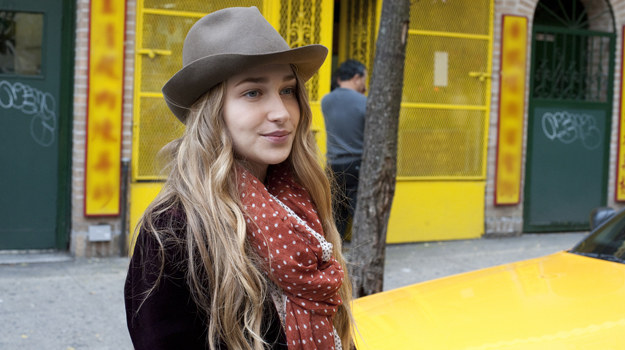 "Dziewczyny" od 30 lipca w HBO
Komunikat jest krótki: to są ostatnie pieniądze!
Hannah (Lena Dunham) w wieku 24 lat, dwa lata po skończeniu studiów, dowiaduje się, że rodzice nie będą jej dłużej utrzymywać. Co robić? Trzeba szukać pracy. A przecież Hannah ma być wybitną pisarką. Do tej pory niewiele stworzyła, ale twierdzi, że gromadziła życiowe doświadczenia. Teraz pora dorosnąć. 
Zdjęcie
Jessa, Marnie, Hannah i Shoshanna
Przed takim samym wyzwaniem stoją jej koleżanki: Marnie (Allison Williams), Shoshanna (Zosia Mamet) oraz Jessa (Jemima Kirke). Dziewczyny marzą o wielkiej miłości i jeszcze większej karierze. A gdzie łatwiej znaleźć jedno i drugie, niż w Nowym Jorku, gdy jest się ambitną dwudziestolatką? Ale mit Wielkiego Jabłka to jedno, a rzeczywistość - drugie. Praca jest, tyle że marnie płatna. Przystojniaków też trudno znaleźć, łatwiej o kolesi mniej lub bardziej pokręconych. Wie coś o tym Jessa, która ma imponująco długą listę romansów i rozczarowań. Na tego jedynego czeka Shoshanna, nadal dziewica. A Hannah i Marnie niby są w związkach, ale nie angażują się emocjonalnie. Nie tak łatwo być dziewczyną w Nowym Jorku...

IP
"Dziewczyny", od poniedziałku 30 lipca, godz. 23:00, HBO

Artykuł pochodzi z kategorii:
Seriale

polski i
Tele Tydzień
Ogólnotematyczne
Filmowe
Serialowe
Dla dzieci
Sportowe
Muzyczne
Tematyczne
Dokumentalne
Informacyjne
Regionalne
DVB-T
HD
polski i
Tele Tydzień
Ogólnotematyczne
Filmowe
Serialowe
Dla dzieci
Sportowe
Muzyczne
Tematyczne
Dokumentalne
Informacyjne
Regionalne
HD