Hiena kontra rekin
Czwartek, 18 października 2012 (14:48)
Próbowaliście kiedyś jeździć po wodzie na łyżwach? Polować na rekiny przy pomocy wykałaczki? A może planowaliście zjeść syrenkę na kolację? Nie? To powinniście odwiedzić zwariowany świat Ziga i Sharko.
Zdjęcie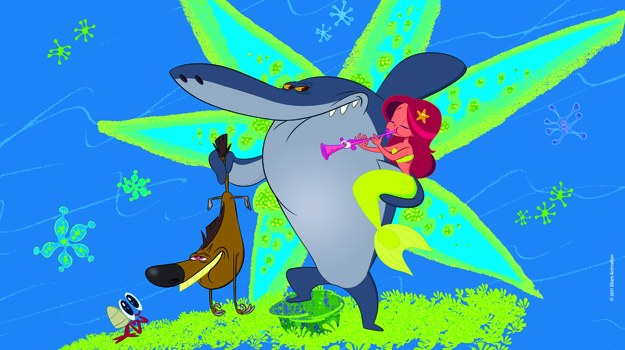 "Zig i Sharko"
W spokojnej, choć tylko pozornie, lagunie żyje piękna syrenka. To łakomy kąsek dla wiecznie wygłodniałej hieny o imieniu Zig. Różnymi sposobami próbuje on złapać syrenkę w swoje sidła, jednak nie jest to takie proste.

Zigowi nieustannie staje na drodze muskularny rekin Sharko. Sharko darzy syrenkę uczuciem i zrobi wszystko, żeby ją obronić, z kolei hiena chwyta się wszelkich sposobów, aby syrenkę złapać.

Kto wygra ten dziwaczny pojedynek rekin kontra hiena? Nie wiadomo, ale będzie przy tym dużo śmiechu.

Francuska komedia absurdu to nowa propozycja kanału teleTOON+ dla wszystkich fanów slapstickowego humoru. 
"Zig i Sharko", premiera 1 listopada, od poniedziałku do piątku o godz. 9:00 i 16:55, w weekendy o godz. 13:00, teleTOON+


Artykuł pochodzi z kategorii:
Seriale
polski i
Tele Tydzień
Ogólnotematyczne
Filmowe
Serialowe
Dla dzieci
Sportowe
Muzyczne
Tematyczne
Dokumentalne
Informacyjne
Regionalne
DVB-T
HD
polski i
Tele Tydzień
Ogólnotematyczne
Filmowe
Serialowe
Dla dzieci
Sportowe
Muzyczne
Tematyczne
Dokumentalne
Informacyjne
Regionalne
HD