Seriale

»

Morderstwo na pokazie mody
Morderstwo na pokazie mody
Sobota, 7 kwietnia 2012 (07:00)
Wielkie poruszenie w Sandomierzu. W teatrze odbywa się pokaz mody znanej projektantki - Olgi (Aleksandra Nieśpielak). Zbierają się na nim wszyscy zacni mieszkańcy, jest pani burmistrz (Tamara Orciuch), komendant policji (Piotr Polk), a nawet Nocul z żoną (Michał Piela i Ewa Bułhak). Na pokazie dochodzi jednak do tragedii...
Zdjęcie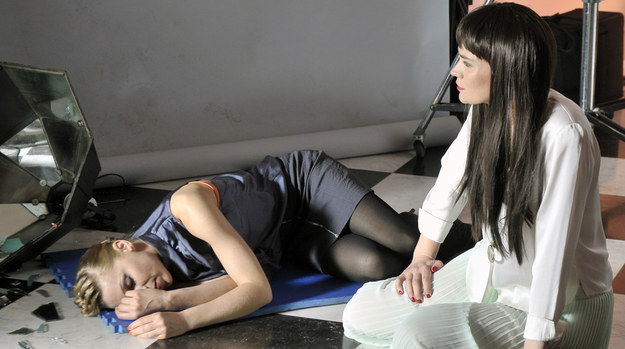 Piękne modelki pokazują zwiewne stroje. Nikt nie podejrzewa, że takie spektakularne wydarzenie może zakończyć się tragedią. Nagle na głowę jednaj z modelek spada lampa oświetlająca wybieg. Uderzenie jest tak silne, że dziewczyna ginie na miejscu.

Nieszczęśliwy wypadek czy morderstwo? Okazuje się, że modelka to przypadkowa ofiara, a morderca chciał zabić projektantkę. Początkowo wydaje się, że ta piękna i energiczna kobieta nie mogła mieć wrogów. Śledztwo wykazuje, że jest kilka osób, które źle jej życzyły. Wśród nich jest Sylwia, jedna z modelek.

- Jestem główną podejrzaną. Mąż Olgi był kiedyś moim narzeczonym i miłością mojego życia, a ja go wciąż kocham i chcę odzyskać. Wszystkie poszlaki wskazują na mnie, ale to nie ja jestem mordercą - zdradza Marysia Góralczyk.
Sprawa wygląda beznadziejnie. Oczywiście do policyjnego śledztwa włącza się ojciec Mateusz (Artur Żmiejwski). Przy jego pomocy udaje się rozwikłać sprawę i znaleźć prawdziwego zabójcę.
Kto zatem chciał zabić projektantkę? Odpowiedź w kwietniowych odcinkach "Ojca Mateusza" w czwartki o 20:20 na antenie TVP1.
Ewa Pokrywa/AKPA

Artykuł pochodzi z kategorii:
Ojciec Mateusz
teletydzien.pl/AKPA
polski i
Tele Tydzień
Ogólnotematyczne
Filmowe
Serialowe
Dla dzieci
Sportowe
Muzyczne
Tematyczne
Dokumentalne
Informacyjne
Regionalne
DVB-T
HD
polski i
Tele Tydzień
Ogólnotematyczne
Filmowe
Serialowe
Dla dzieci
Sportowe
Muzyczne
Tematyczne
Dokumentalne
Informacyjne
Regionalne
HD