Spotkanie z twórcami "Paradoksu"
Wtorek, 24 lipca 2012 (16:52)
Bogusław Linda, Anna Grycewicz, Cezary Łukaszewicz, a także reżyser Borys Lankosz i scenarzysta Igor Brejdygant będą gośćmi festiwalu DWA BRZEGI. Już w najbliższą sobotę o godz. 14:00 w Kazimierzu Dolnym spotkają się z festiwalową publicznością, by opowiedzieć o najnowszym projekcie, w którym biorą udział.
Zdjęcie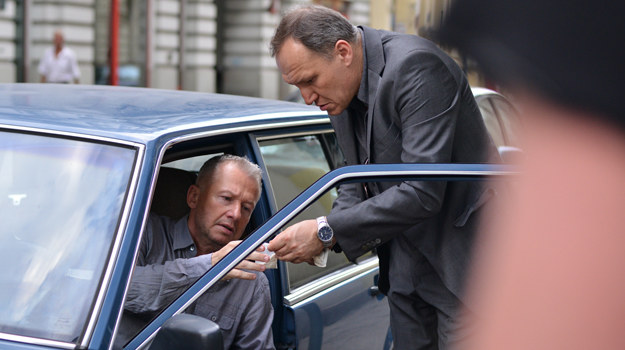 Główną rolę w serialu gra Bogusław Linda
Do Kazimierza aktorzy i twórcy "Paradoksu" przyjadą bezpośrednio z Łodzi, gdzie trwają zdjęcia do serialu. Podczas spotkania podzielą się swoimi wrażeniami z planu, opowiedzą o kulisach produkcji, scenariuszu, bohaterach oraz założeniach reżyserskich.
Goście festiwalu oraz dziennikarze będą też mieli okazję zobaczyć efekty ich pracy. To właśnie podczas sobotniego spotkania na festiwalu DWA BRZEGI - po raz pierwszy - zaprezentowane zostaną wybrane sceny z "Paradoksu". Nie zabraknie także reportażu z planu i kilku filmowych niespodzianek.
Na charakter "Paradoksu" pracuje doborowa obsada i wielokrotnie nagradzani twórcy (m.in. Borys Lankosz, Greg Zgliński, Igor Brejdygant). "Paradoks" to także wielowątkowa fabuła, poruszająca kwestie indywidualnie pojmowanej sprawiedliwości oraz moralności, a także wyrafinowana stylistyka. Filmowa forma, dopracowana warstwa wizualna, dbałość o szczegóły - wszystko to zapowiada wyjątkowy klimat i swoistą nastrojowość serialu. Publiczność festiwalu DWA BRZEGI jako pierwsza oceni efekt.
Czytaj więcej o "Paradoksie" w naszym serwisie!

Spotkanie z twórcami "Paradoksu" - sobota, 28 lipca, godz. 14:00
6. Festiwal Filmu i Sztuki DWA BRZEGI
Kazimierz Dolny, Cafe KOCHAM KINO


Artykuł pochodzi z kategorii:
Paradoks
polski i
Tele Tydzień
Ogólnotematyczne
Filmowe
Serialowe
Dla dzieci
Sportowe
Muzyczne
Tematyczne
Dokumentalne
Informacyjne
Regionalne
DVB-T
HD
polski i
Tele Tydzień
Ogólnotematyczne
Filmowe
Serialowe
Dla dzieci
Sportowe
Muzyczne
Tematyczne
Dokumentalne
Informacyjne
Regionalne
HD