Seriale

»

Będzie 2. sezon "Przyjaciółek"!
Będzie 2. sezon "Przyjaciółek"!
Wtorek, 23 października 2012 (11:42)
Telewizja Polsat podjęła decyzję o realizacji drugiego sezonu serialu "Przyjaciółki", który zadebiutował na antenie stacji tej jesieni. Kolejna seria będzie miała 13 odcinków i zostanie wyemitowana wiosną 2013 roku.
Zdjęcie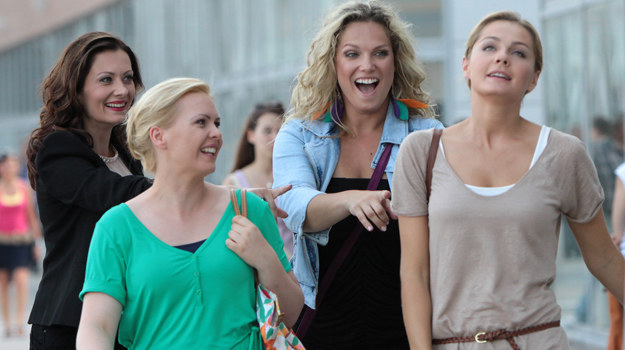 Widzowie pokochali "Przyjaciółki"
"Przyjaciółki" to serial Telewizji Polsat, w którym poznajemy historię czterech przyjaciółek z czasów liceum. Małgorzata Socha w roli porzuconej kobiety z dzieckiem, Joanna Liszowska jako wzięta fryzjerka, Magdalena Stużyńska - niespełniona gospodyni domowa oraz Anita Sokołowska, czyli samotna bizneswoman, zdołały przekonać do siebie widzów.

"Przyjaciółki" to chwilami wzruszająca, a chwilami humorystyczna opowieść o przyjaźni czterech pozornie zwyczajnych kobiet. Spotkały się po latach na zjeździe klasowym i przekonały się, że nadal łączy je silna więź. Razem stawiają czoła przeciwnościom losu, zawsze gotowe są wyciągnąć pomocną dłoń, gdy któraś z nich jest w potrzebie. Droga do szczęścia serialowych bohaterek okazuje się wyboista, jednak co cztery głowy to nie jedna!

Akcja serialu "Przyjaciółki" dzieje się w Warszawie. Bohaterkami są 30-kilkuletnie kobiety, które poznały się w liceum. Po maturze ich drogi zawodowe się rozeszły, jednak mimo upływu lat nadal utrzymują ze sobą kontakt. Choć każda z bohaterek jest inna: różni je temperament, podejście do życia, wykonywany zawód czy zamożność, to jednak mają wiele wspólnego - wszystkie próbują odnaleźć siebie, poradzić sobie z problemami i najnormalniej w świecie ułożyć sobie życie.

Producentem serialu na zlecenie Telewizji POLSAT jest Akson Studio. Reżyserią zajął się Grzegorz Kuczeriszka, scenariusz napisała Beata Pasek.

Serial "Przyjaciółki" emitowany jest co czwartek w Polsacie o godz. 22:00.


Artykuł pochodzi z kategorii:
Przyjaciółki
polski i
Tele Tydzień
Ogólnotematyczne
Filmowe
Serialowe
Dla dzieci
Sportowe
Muzyczne
Tematyczne
Dokumentalne
Informacyjne
Regionalne
DVB-T
HD
polski i
Tele Tydzień
Ogólnotematyczne
Filmowe
Serialowe
Dla dzieci
Sportowe
Muzyczne
Tematyczne
Dokumentalne
Informacyjne
Regionalne
HD