Ciężkie chwile Patrycji
Środa, 24 października 2012 (14:30)
Właśnie teraz, kiedy Patrycja odkryła, że nie zajdzie tak łatwo w ciążę, jej chłopak coraz częściej wspomina o powiększeniu rodziny.
Zdjęcie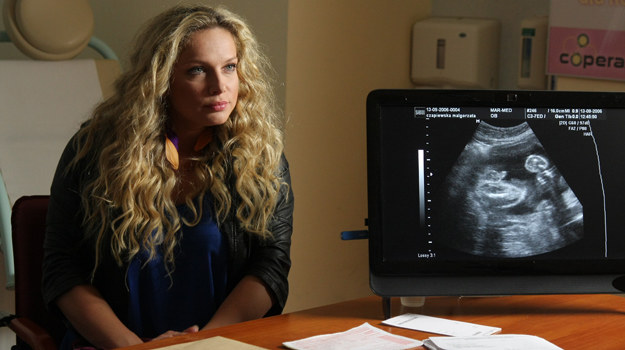 Patrycja decyduje się na kolejne badania
Patrycja nie może zajść w ciążę. Robi kolejne badania. Sytuacja zaczyna ją przerastać. Patrycja czeka na kolejne wyniki badań. Tymczasem jej partner Michał (Marcin Rogacewicz) coraz częściej zaczyna wspominać o powiększeniu rodziny. To nie wszystko. Ostatnio Michał  spędza coraz więcej czasu z Oliwią (Katarzyna Galica). Patrycja jest zazdrosna i postanawia "nastraszyć" swoją koleżankę. Jaki wybierze sposób?
Natomiast Inga nie może dojść do porozumienia z Andrzejem. Andrzej przychodzi z Dorotą (Agnieszka Sienkiewicz) po Hanię do przedszkola. Mają zabrać małą na plac zabaw. Hania jednak nie chce iść z Dorotą. Andrzej jest wściekły na Ingę za całą tą sytuację. Wieczorem składa jej wizytę, podczas której obwinia i oskarża żonę, że nastawia dziecko przeciwko niemu i Dorocie. Grozi jej, że jak nie dostosuje się do grafiku jego spotkań z Hanią, to skieruje sprawę do sądu. Jak zareaguje Inga?
Zuza (Anita Sokołowska) umówi się na randkę z Wojtkiem (Lesław Żurek) w restauracji. Mężczyzna jest skrępowany tym, że przy barze spotyka Monikę (Natalia Klimas). Kilka dni temu Zuza widziała ich razem. Aby wybrnąć z twarzą z całej tej sytuacji, Wojtek postanawia poznać ze sobą dziewczyny. Czy Zuza będzie zazdrosna o Wojtka? Jak zakończy się ten wieczór?
Odpowiedzi na wszystkie pytania już w 8. odcinku "Przyjaciółek", czwartek godz. 22:00, Polsat
Artykuł pochodzi z kategorii:
Przyjaciółki
polski i
Tele Tydzień
Ogólnotematyczne
Filmowe
Serialowe
Dla dzieci
Sportowe
Muzyczne
Tematyczne
Dokumentalne
Informacyjne
Regionalne
DVB-T
HD
polski i
Tele Tydzień
Ogólnotematyczne
Filmowe
Serialowe
Dla dzieci
Sportowe
Muzyczne
Tematyczne
Dokumentalne
Informacyjne
Regionalne
HD