Seriale

»

Marzena chce odzyskać swoją córeczkę!
Marzena chce odzyskać swoją córeczkę!
Czwartek, 15 listopada 2012 (06:00)
Marzena (Anna Gzyra) po powrocie ze Szwajcarii, będzie chciała odebrać byłemu mężowi Piotrowi Matysiakowi (Mariusz Zaniewski) córkę. Z kolei prawnik (Bartek Kasprzykowski) pokaże jej zdjęcia Ingi (Małgorzata Socha) i Piotra spacerujących w zoo. Kobieta stwierdzi, że wspólnie zaplanowali intrygę i porwali jej dziecko. Postanowi powiedzieć o wszystkim policji.
Zdjęcie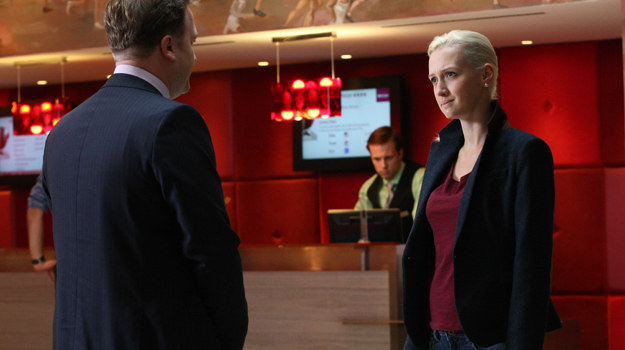 Marzena (Anna Gzyra) zrobi wszystko, aby odzyskać swoje dziecko.
- Nie rozumiem postępowania mojej bohaterki. Najpierw chce, aby jej mąż przekazał córce, że matka umarła. A po jakimś czasie postanawia odzyskać dziecko. Kiedy widzi Olę, już wie, że zrobi wszystko, aby ją mieć tylko dla siebie. Jest w desperacji. Zagrozi Indze, pójdzie na policje, będzie spiskować z prawnikiem. Były to trudne sceny do zagrania, bo skumulowały się wszystkie emocje: stres, gniew, złość, wyrzuty sumienia, polały się łzy. Jednak to ciekawe doświadczenie aktorskie! A co się stanie dalej? Nie powiem, ale będzie się działo - podsumowała Anna Gzyra.
Ten emocjonujący wątek zobaczymy w czwartek, 15 listopada o godz. 22:00 w 11. odcinku "Przyjaciółek" na antenie Polsatu.

Artykuł pochodzi z kategorii:
Przyjaciółki
polski i
Tele Tydzień
Ogólnotematyczne
Filmowe
Serialowe
Dla dzieci
Sportowe
Muzyczne
Tematyczne
Dokumentalne
Informacyjne
Regionalne
DVB-T
HD
polski i
Tele Tydzień
Ogólnotematyczne
Filmowe
Serialowe
Dla dzieci
Sportowe
Muzyczne
Tematyczne
Dokumentalne
Informacyjne
Regionalne
HD