Seriale

»

Nowy sezon "Szpilek na Giewoncie" tuż tuż
Nowy sezon "Szpilek na Giewoncie" tuż tuż
Wtorek, 3 stycznia 2012 (13:45)
Zbliża się 4. seria serialu "Szpilki na Giewoncie". Wiosną zobaczymy produkcję w nieco odmienionej wersji. Przyjrzymy się z bliska nowym bohaterom i ich perypetiom na tle górskich pejzaży, malowniczego Zakopanego oraz wielkomiejskiej stolicy.
Zdjęcie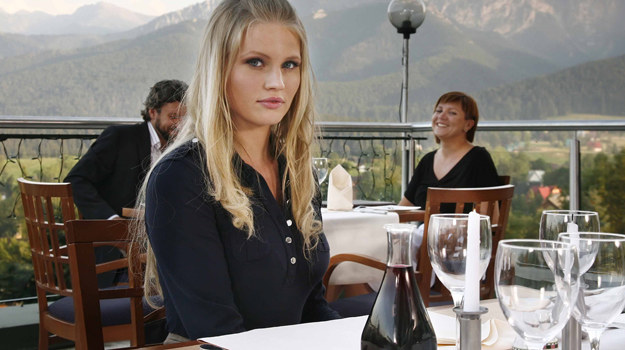 Agnieszka (Natalia Rybicka)
Tematem przewodnim nowej serii będzie miłość - w bardzo różnych kolorach.
Ciemne chmury zbiorą się nad Bartkiem (Krzysztof Wieszczek). Nadciągnie prawdziwe tornado na Podhalu, czyli bezlitosna Diana (Joanna Pierzak-Orleańska) w Biurze "Tu i teraz". Przejaśniać zacznie się u Xenii (Anna Czartoryska) oraz u Agnieszki (Natalia Rybicka). Z kolei dla Lucyny (Dorota Pomykała) i Anieli (Małgorzata Pieczyńska) nastanie dobry dzień. Nadzieję przyniesie do Zakopanego nowa postać - Mateusz (Jan Wieczorkowski).
Emocjonująco będzie u Xenii (Anna Czartoryska), która pojawiła się w produkcji pod koniec 3. sezonu. Xenia to współczesna singielka z Warszawy. Prowadzi swój klub muzyczny, zachwyca głosem i zna się na muzyce jak mało kto. To ona przekonała Bartka, aby zagrał na skrzypcach w jej klubie. Pomysł zresztą okazał się bardzo trafiony. Dziewczynę gryzie jednak pewna tajemnica z przeszłości...
W 3. serii serialu nienajlepiej było u Agnieszki (Natalia Rybicka). Została wyrzucona z pracy i zostawił ją narzeczony. Dziewczyna nie załamała się jednak. Z dużą pomocą Lucyny, zaczęła wychodzić z dołka i walczyć o szczęście. W pensjonacie Lucyny pojawi się Mateusz Rybicki (Jan Wieczorkowski), który otworzy przed Agnieszką nawet kilka... przysłowiowych okien.
Sporo namiesza Diana (Joanna Pierzak-Orleańska), która w finale poprzedniej serii zwolniła cały zespół biura "Tu i teraz". Diana zagości w Zakopanem na stałe.
W obsadzie 4. serii pojawią się również m.in. Anita Jancia, Piotr Zelt oraz Marcin Rogacewicz. Zdjęcia ruszają 3 stycznia 2012 r.
Artykuł pochodzi z kategorii:
Szpilki na Giewoncie
polski i
Tele Tydzień
Ogólnotematyczne
Filmowe
Serialowe
Dla dzieci
Sportowe
Muzyczne
Tematyczne
Dokumentalne
Informacyjne
Regionalne
DVB-T
HD
polski i
Tele Tydzień
Ogólnotematyczne
Filmowe
Serialowe
Dla dzieci
Sportowe
Muzyczne
Tematyczne
Dokumentalne
Informacyjne
Regionalne
HD